This is Eunice. She has beautiful chocolate brown eyes and her age appears indeterminable. When I decided to blog about the "People of Packett Properties" I didn't know I would start at the end. But sometimes great stories start at the end. Eunice is moving out of one our apartments today, so her story with us ends today.
The office phone rang this early this morning. As I answered the phone I heard a soft, choked voice, "Sherry? This is Mrs. Brooks. I would like you to come over this morning so I can tell you my story." We all have a story to tell. We just want someone to listen.
So I drove to her apartment to listen to her story. When I entered her apartment I was greeted by her daughter. The apartment was a skeleton of what it was the last time I visited. There were missing photos, furniture, and knick-knacks. Eunice, with a brace on her arm, was seated on her love seat with an aluminum walker pushed off to the side. She patted the space next to her and asked me to sit down. So I sat.
Here is her story. Eunice suffered a debilitating stroke about six weeks ago. She spent weeks in the hospital and weeks in rehab. She has lost mobility of her right side. As she cried she said, "I can't even walk from one side of the room to the other. I can no longer take care of myself or my home." She is leaving us and moving in with her daughter. She is heartbroken to leave her home. As she wiped the tears from her eyes she said, "They don't understand why I'm so upset. This is my home. I love it here! I've made friends here." She finished her statement with tears in her eyes, "Mr. Packett gave me a home when nobody else would."
Before she retired, Eunice was a nurse for 53 years! Can you imagine? Fifty-three years? That's a lifetime! Imagine the lives she has touched. "Now I know how those poor people felt all those years I nursed them. I just didn't know I'd become one of them," she said as she softly sobbed. That's the thing about life, we never get how precious time can be or how short life can be—even at the age of 80.
Eunice is 80 years old and is still learning about life. She is determined to get her strength back and be the sassy woman she used to be before the stroke. I know she will succeed, because that's who she is--shes' a fighter.
Eunice is ultra competitive when it comes to cleanliness. She can out-clean anyone in the complex. Young or old. Not too long ago she was still climbing a ladder to clean her ceiling fans and the tops of her kitchen cabinets! At her age! With a huge smile on her face, she said to me, "I know Mr. Packett loves me because I kept this place spotless!" And he does.
She also likes to look nice. All of the time. She is always, always dressed to the nines. Hair, make-up, necklace, earrings, rings, matching shoes, pocketbook. Spunk! This one has spunk.
Eunice also loves her plants and arranging flowers. She was especially upset that she couldn't take her big plants with her. As the tears flowed again, she said, "I started them out as cuttings--just little things." One big plant was a gift from her granddaughter. She had lovingly watered, fed and nurtured her plants for years and was heartsick that they would be left behind to wither and die. Her tears tugged at my heart, so I volunteered to take her plants for her. I told her I would take great care of them, even though my thumb isn't very green, and send her photos of them to prove they were thriving.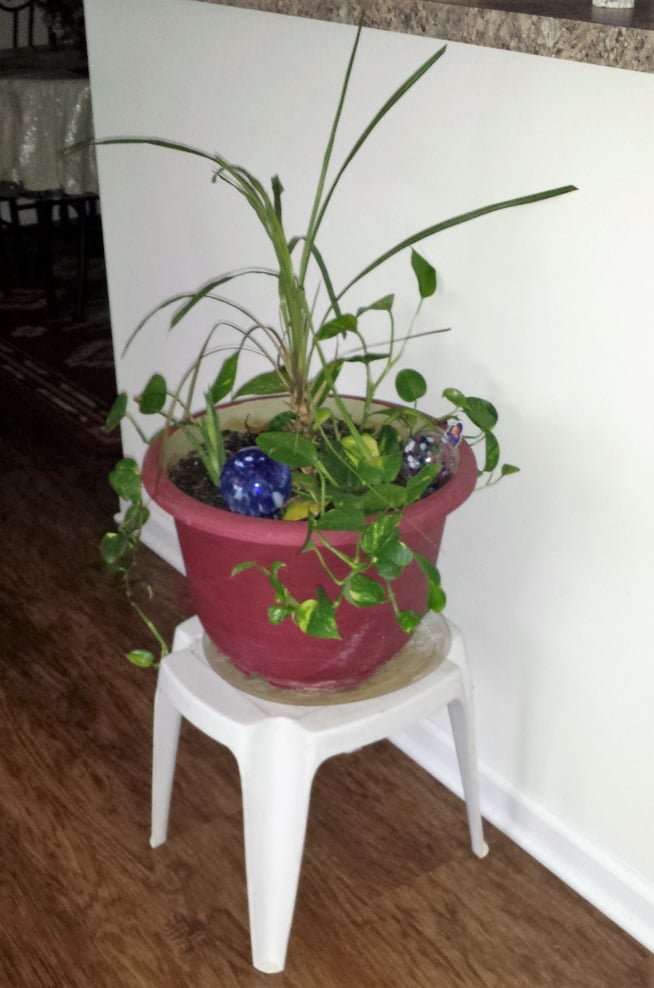 As I was leaving, Eunice thanked me for taking my time to listen to her story and for taking her plants so they wouldn't wither. She had a soft smile on her face as I left. I plan to keep in contact with Eunice and monitor her progress. Packett Properties will miss her spirit, her spunk and her liveliness.