I'm a come here. I've lived here almost 30 years, so the moniker has started to wear off, but I'm still one of them.
I grew up in a small town so I wasn't surprised, bored or shocked when I moved here. However, I have a friend who moved here from up North a few years ago who is still delighted by small town living.
When he goes to Walmart or a restaurant he still gets excited by the fact that he knows that person, and that person AND that person! I've tried to explain that sometimes the locals wish to get in and get out of Walmart as quickly as possible. Sometimes it'll take you two hours to get out just because you must stop and chat or else you'll be considered rude.
My friend stated that in New York people were easily angered and thereby inexcusably rude, often using inappropriate language, just because they knew they'd never see you again. That attitude doesn't go over so well here. You'll learn (hopefully the easy way) that everyone is related to everyone or they know somebody who knows somebody, so if you're rude or ugly it'll get back to them and ultimately you. Don't do it!
Manners are expected here.
Please, thank you, yes ma'am, no sir. Hello and good morning are expected. People hold the door for you and you must thank them. One thing you don't want be know as here is rude!
My friend was moving from his rental house into his newly purchased home and was having a lot of anxiety about moving. Who would he hire? Were there even moving companies out here? Where would he get help? I told him that you didn't hire anyone here, you simply picked up the phone and called your friends. It takes one call to make it happen. And it did. The trucks and trailers showed up. Friends and their family loaded his belongings onto their trailers and into their trucks and moved his belongings to his new house. It didn't cost him a dime. Oh, he tried to pay them but they wouldn't take his money. I explained that here you just pay it forward. At some point someone will need help and call him. It's okay. Really.
It's the same policy if you have to borrow something...say a tractor or a cup of sugar? Just pick up the phone, someone will be willing to loan you what you need.
Sick? Oh, yes, it's true. If you get sick or are going through a distressing time your front door will turn into a revolving door. They will bring you home cooked food, coffee, paper goods, toilet paper (I'm not kidding) and most of all--support. That's how they do it here. They think of everything that you might need, and then some, in your time of distress. If you're sick they'll cut your grass, take you to the doctor, and pick your child up from school. They won't stop until you're able to stand on your own two feet. Sometimes they don't ask if you need help, they just do it.
In the summer time you'll have squash, tomatoes, cucumbers, corn, peppers and zucchini running out of your ears. Everyone who has a garden will share their bounty with you. In the winter time it could be deer meat. After a big snow, if you can't get out, they'll even shovel your driveway.
Yes, it's true. Everyone will know your business. And most of the time that's okay unless you're in the witness protection program. Most don't mean any harm in what they say or repeat, they're just sharing news.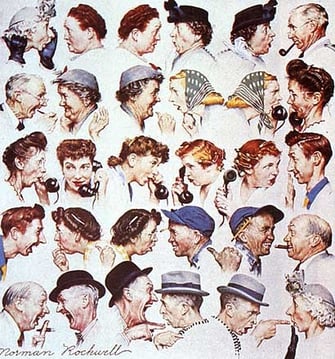 So what if you have to drive an hour to the city to go shopping, an art museum or fine dining? You won't find the simple goodness in a big city that you'll find living in a small town in the Northern Neck. The adjustment is worth it.